Who We Are
EEF is a new Chicago based Strategic Social Investor. Formed in 2020 with a goal of approaching long standing, seemingly intractable challenges, EEF approaches the need for more well trained and diverse K-12 Educators with a combination of practicality, experience and a relentless determination to achieve our goals.
One year ago at Chicago's City Club, Dr. Janice Jackson, CEO, Hope Chicago, succinctly summarized the fundamental challenge. "We have to deal with the talent issue. We don't have enough teachers. We don't have enough principals. We don't have enough superintendents. We don't have enough qualified educators to do the work that needs to be done."
EEF now supports a diverse group of high-potential candidates who have been admitted or are enrolled in excellent training and degree programs, but simply need more financial support so that they may continue on a path for success as K-12 Educators. Our practice of investing in individuals who simultaneously receive comprehensive support from their schools and other third-party advocates insure that our results are positive and sustainable.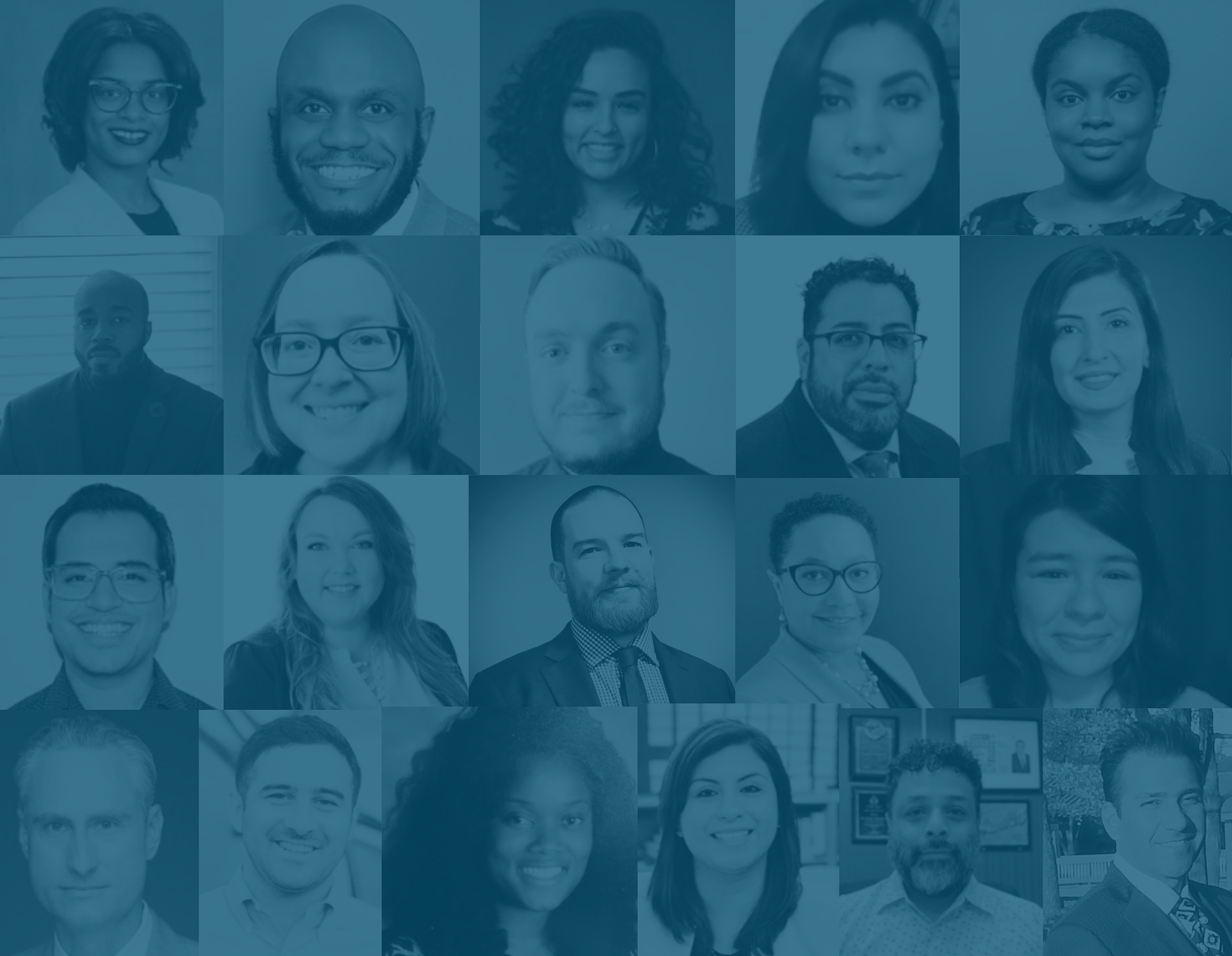 The EdD Urban Education Program Cohort 20
Education Equity Fund proudly supports three of this cohort.
Donate
EEF provides straightforward, risk-mitigated financing to qualified candidates so that they may fully participate in high-quality educational training programs that, absent our funding, would be unaffordable. The students we fund overwhelmingly identify as races and ethnicities that are under-represented in K-12 education.
EEF partners with training programs that have a demonstrated track record of excellent and successful outcomes. Our partners identify promising students who need financial assistance for tuition, living expenses, or other costs associated with their education. Partners provide the academic and other supports that enable students to persist, graduate and find employment.
In our third year EEF is seeking out enhanced social rates of return on our investments, or what Economists call "positive externalities." These are "good things" that happen as a result of our actions but results that we do not see direct financial reward for; just the right place for EEF, a "research-driven, market informed, social investor" to put its money.
The Wallace Foundation's most recent Research Report "How Principals Affect Students and Schools" concluded that "Principals really matter. Indeed, it is difficult to envision an investment with a higher potential return than a successful effort to improve principal leadership."
Locally, we have just such an opportunity. The EdD Program in Urban Education Leadership at The University of Illinois at Chicago is nationally recognized for its innovation and quality and has been identified as a "model" by the Illinois Board of Higher Education. In 2022 EEF began providing funding so that students of great potential, but limited personal financial resources, may earn EdD's in Urban Education Leadership at UIC.
The graduates of this program have had great success. Most of them are Chicago Public Schools Principals. One of them Dr. Janice Jackson went on to become the CEO of Chicago Public Schools.
When you donate today, your contribution will help fund a diverse class of high potential EdD candidates admitted to the University of Illinois's nationally recognized Urban Education Leadership program, but who need financial support. Today's carefully selected candidates will be tomorrow's highly trained school leaders and the guides for our children's future.
The Education Equity Fund, NFP is a registered 501 (c) (3) tax-exempt organization. All contributions are fully Tax deductible for Federal and State Income Tax Purposes
Donate